I cannot not share this post. Again. What a wonderful Christmas spirit. Look at all the meaningful gifts one can make. Incredibly amazing.
A Holy Experience
, the blog.
Posted: 03 Dec 2012 08:20 AM PST
I
'm thinking it's almost a dozen years now, nothing under the Christmas tree here.
Strange, the way children teach men.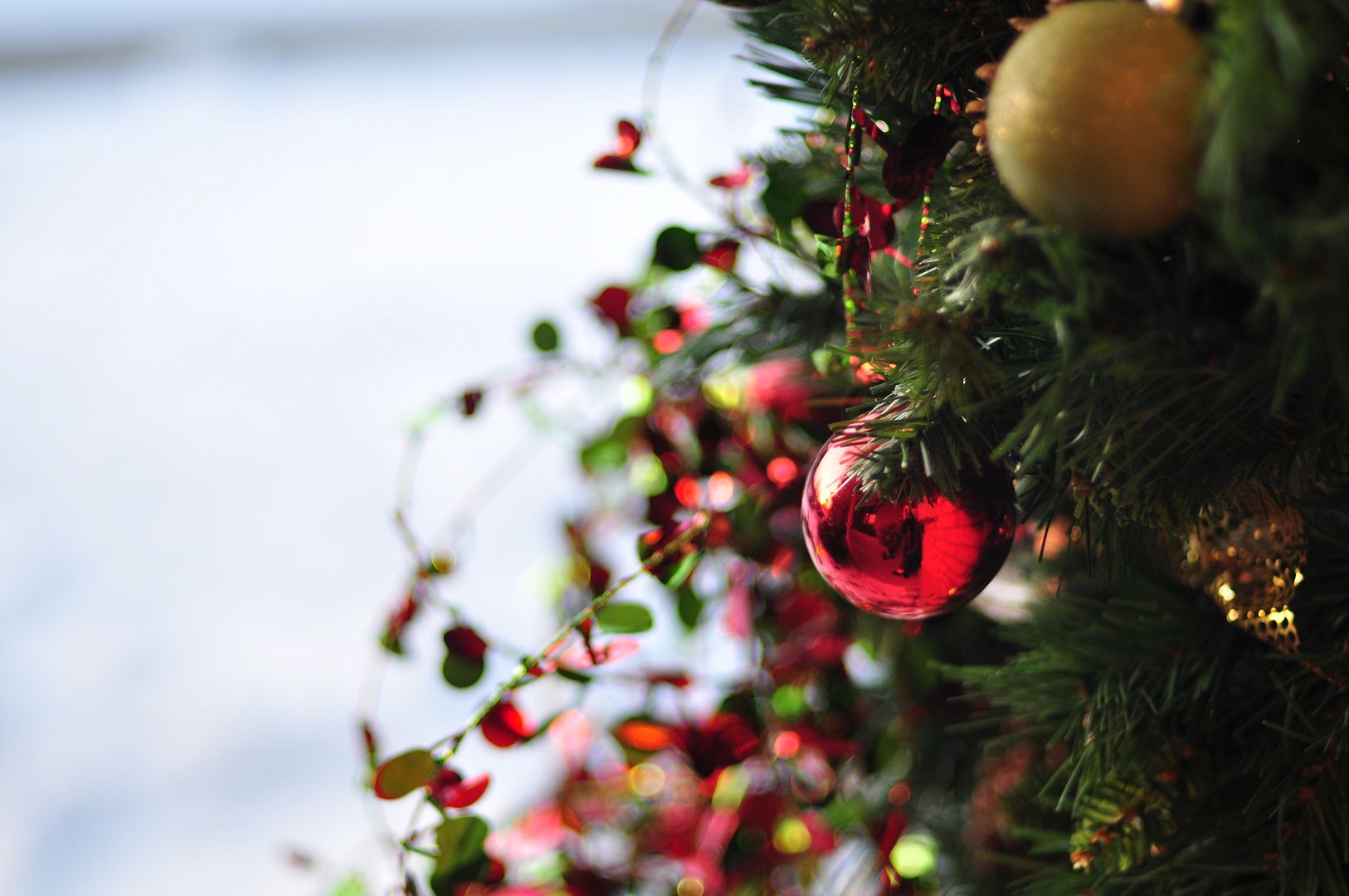 The whole crazy, unexpected thing, it started at bedtime one year, I do remember that. Smoothing back hair, kissing foreheads.
I had gifts to wrap.
So, I pulled up the blankets. Prayers. And then, when I'm at the door, one hand on the doorframe, resting in the light of the hallway, I turn to close the door a bit on the dark.
And the oldest boy, he stops me with just one question:
"What does Jesus get for His birthday?"
The words hung… strung me up.
I say the words into the black. Um…
A cake? Our love?
I can hear him turn again in the bed, roll over on the pillow. Restless…
"But Mom….
if we get wrapped presents for our birthdays. If people give up other things to give something to us for our birthday — then why don't we do that for Jesus' birthday?"
I stand at the door looking into all that light cast down the hallway. One round moon hangs large outside the window, an ornament dangling off stars, decorating the night.
I stand in the dark, the light right there, and
I grope for the answer that could change the world
…
And the boy says:
Why don't we give up things so we can give to Jesus for His birthday?"
Is it always this way, that a little child will lead them?
He was five that year, I think…
I just know that now he's seventeen and we all stepped out into some light that year and we've done all the Christmases since this way — giving away.
It's not at all wrong to do it differently, but just for us…
all the Christmas gifts — are gifts for the Christ Child
.
I shamefully confess I thought it would somehow make me sad.
I am a very slow learner.
Only love under the tree can unwrap abundant joy.
And the Birthday Child tells us what He wants: Give to the least of these and you give to Me.
So this is how we do it: If any extended family don't feel it's Christmas without gifts, we honor and exhange gifts. And we make lots of love packages of baking for the neighbours and the excitement is about reaching out with His love. And we draw names in our own family and give only one handmade gift the week after Christmas, to each other on New Year's Day, a way to celebrate the blessing of a New Year.
But our Christmas here, the main thing?
It happens after breakfast, each day for the last two weeks of Advent, selecting one gift for He who is Christmas.
We pick out gifts from His gift catalogues and give to Him and the excitement is palpable — the
Compassion Catalog
,
Samaritan's Purse Catalog
,
Partner's International Catalog
,
World Vision Catalog
,
Gospel for Asia Catalog
,
Mennonite Central Committee Catalog
.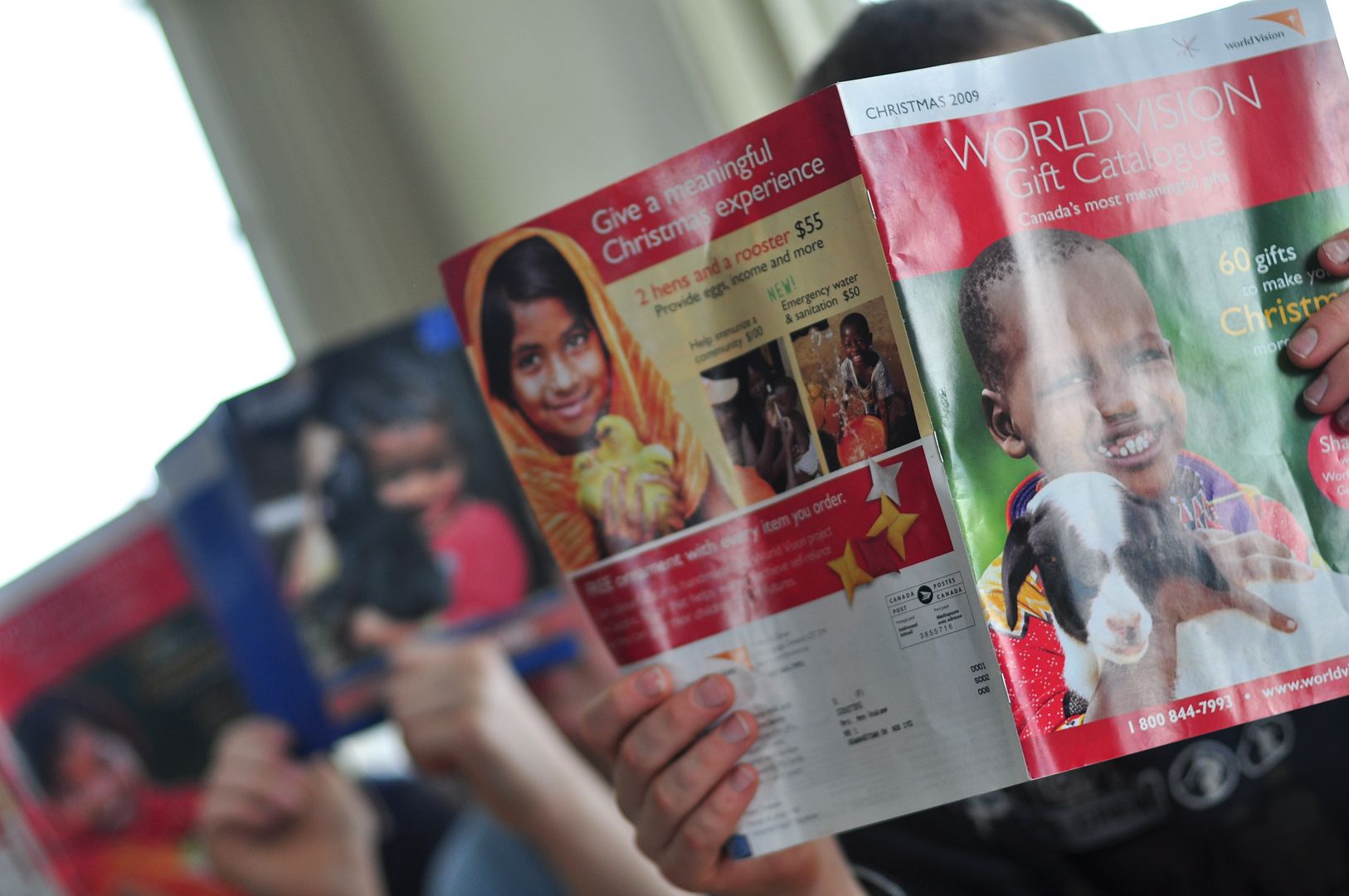 They flip pages, deciding on what to give Him today:
"Anyone think we should get a pair of rabbits today?"
"I was thinking mosquito nets. Two. I wouldn't want to die of malaria."
"If we buy a seed packet for a family, our gift is tripled."
"Did you read the story on page 25 about what a difference it makes for an orphan family to have seeds? The little girl said, '
Life is much better with food
.'"
"Why are you crying, Mama?"
"Oh, just thinking—- how life really is much better with food…
"
::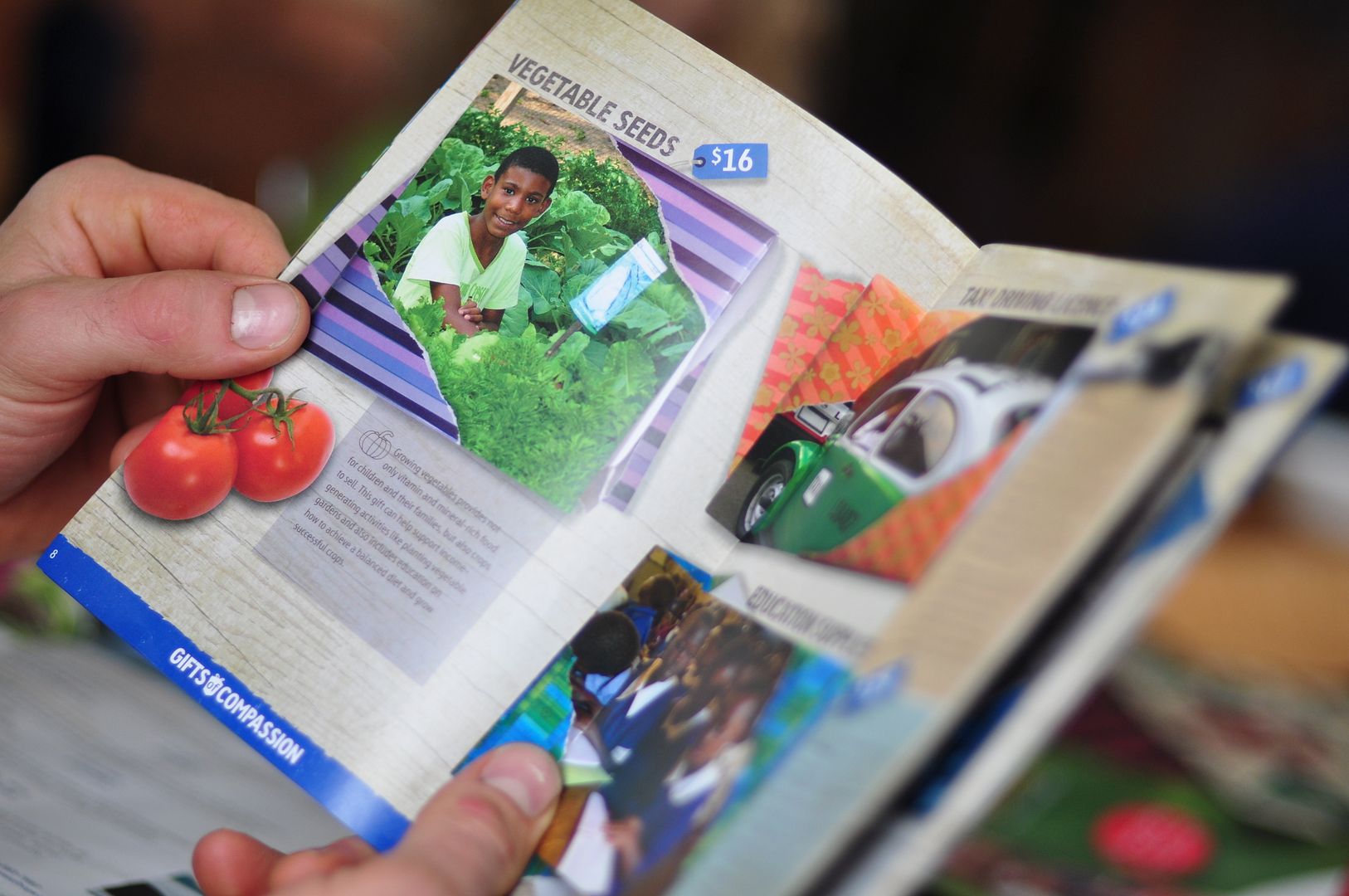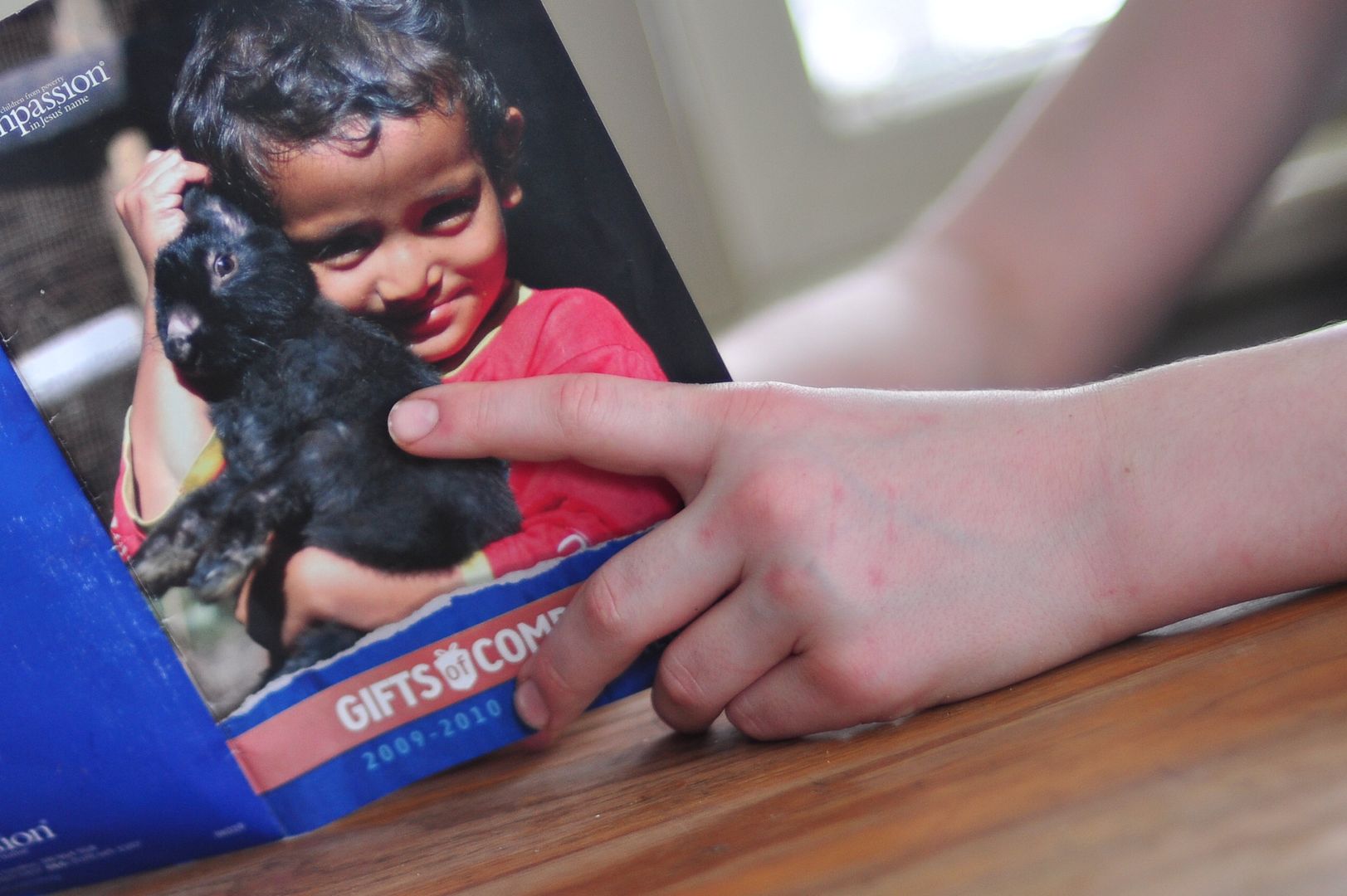 I'm sitting at the table with the kids all bent over The King's Catalogues when I finally get what the kids already know:
I'd rather only fill a child's tummy than fill my house with anymore things.
Maybe that's the choice our Christmas needs to make: feed our own wishes or feed the real hunger of Christ?
Nothing can be claimed, taken, received, had; everything we have is gift to us from heaven. All that we have has no other source but the hand of God (Jn 3:27).
And the thing is: "
Christian hands never clasp and He doesn't give us gifts for our gain because a gift can never stop being a gift— it is always meant to be given.
"
(~
One Thousand Gifts
)
When we pass our gifts on — the gifts from Him remaining a gift and being given again — we are the ones given even more of the source of all gifts — more of
God Himself
.
Filled.
When we give to Christ in the hungry, He satisfies our own hunger pangs
.
A decade of this, our little family turning the Christmas tree upside down and letting gifts all fall into the hands of the poor.
Sure, some thought it too strange, all this with no bows under the tree and really, I understood.
But we couldn't stop seeing just this, Him hanging on a tree. It's just the way He's just spoken to us, that's all, and
there are a thousand ways to do Christmas well.
And then the unexpected happened — my Dad, he stood in our kitchen. Stood with his hand on the counter, his farm coveralls still on, him just driving by, and he said it quiet,
"I think this year — we shouldn't do gifts as a family
."
He looked up at me. My eyebrows arched.
He did understand?
"I was thinking that this year — maybe we should just all go together — and see if we can help drill a well in Africa."
And that one boy who was once five but is now pretty much grown up, who asked a question on a night long ago that answered so much — he turns to me and he smiles.
His smile lighting the room and all the world.
The Grateful Christmas Project





7 Ways to have more Grateful Kids this Christmas

:


1. A "Gifts We Already Have List"


Hang a long paper on a wall or on the fridge or back of door. Fill that list up before Christmas — with all the countless ways God blesses you all as a family. Count 1000 (or a bit more or less) of the gifts you already have this Christmas!


2. Thanks Mob the neighborhood


Set out a basket of Thank you postcards and leave a pen and stamps in the basket. Add a stash of chocolate bars. See if you can empty the thank-you card basket, accompanied by chocolate bars, by Christmas — a thank-you card and chocolate bar for the postman, the garbage collector, folks at the hair salon, the crossing guard, the church janitor.


3. Love-in for a Shut-In


Adopt a shut-in this Advent. One person who is homebound or elderly or in a nursing home — and have the kids think of one thing they can do for that shut-in face to face over Advent. Sing Christmas carols with them one evening? Bring them a very small tree in a pot and every week of Advent pop in with one more meaningful ornament for the tree? Bring them a meal? Find a way for the kids to be face-to-face with blessing someone.


4. Thrift Gifts


Before every trip to the mall — check out one thrift store. Before any online order — check out kijji or ebay. Help kids to thrill in the hunt for thrifted gems — and see it as a way to make gifts keep on giving! Think Thrift Gift!


5. Lower expectations to heighten Joy


"Expectations kill relationships — and joy." (One Thousand Gifts) Consider ways of sharing with the kids that Christmas is going to be smaller and holier this year. Set low spending limits for all gift-giving and make the creativity with little part of the Christmas fun. Live by the small rule: Only buy for Christmas Day what can be paid for by New Year's Day. Lower the expectations to heighten the joy!


6. Giving Lists not Getting Lists


Spend quiet time with each of the kids thinking and planning on what they can give and how they can be the gift, give a blessing — so that they can live out the truth of: It is more blessed to give than to receive. What can they make? Bake? Create? How could they surprise? Bless? Who is on their Giving list? Let's focus on our Giving Lists — and not so much on any getting lists.


7. King Gifts


Hear Jesus whispering it: "When You give to the least of these — you give to Me." Consider how to make this Christmas radical — and get out the King's Catalogues and get excited about giving bringing gifts to our King! Gather the family around with all the catalogues and make it a family birthday party for Jesus — will you bring the King a goat, clean water, a chicken, a Bible for a new Believer, a warm coat?
"Christian hands never clasp and He doesn't give us gifts for our gain because a gift can never stop being a gift— it is always meant to be given." (from One Thousand Gifts)
…more of the One Thousand Gifts we are grateful for here today:


#4646: the beginning of Advent and the lighting of candles… how we could be part of the answer that changes the world.
Join us? And happily change everything by keeping your own crazy list of One Thousand Gifts?
Please, jump in, make your life about giving thanks to God! — Just add the direct URL to your specific 1000 gift list post… and if you join us, we humbly ask that you please help us find each other in our refrain of thanks by sharing the community's graphic within your post.